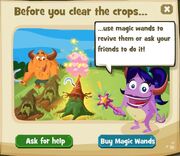 Plants are things planted and harvested for experience. They are called Crops when they are fully grown.
Examples include:
Butterfly Bush
Piggy Bank Bush
Boom Box Bush
Pony Plant (level 95 plant)
Headphone Herb
Pie Plant
Toaster Tree (level 107 plant)
Balloon Bush
Sleepy Moon Plant
Baby Dragon Plant
Crayon Box Bush
Panda Plant (level 109 plant)
Ad blocker interference detected!
Wikia is a free-to-use site that makes money from advertising. We have a modified experience for viewers using ad blockers

Wikia is not accessible if you've made further modifications. Remove the custom ad blocker rule(s) and the page will load as expected.